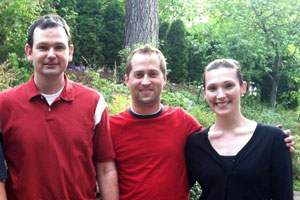 Scott King, M.D. and Jeffrey Nackos, M.D., both from the 2011-2012 fellow class accepted positions at Inland Imaging, an internationally recognized leader in medical imaging services located in Spokane, WA.
Dr. King was an abdominal fellow last year and will be devoting half his time to body/oncology and the other half to ER radiology. He also mentioned that he is definitely enjoying Spokane, and it's been nice to see some familiar faces.
Dr. Nackos, an MRI fellow in 2011-2012, also went to Inland Imaging, and we're sure his sense of humor will come in handy in his new position.
As if two people going to the same location weren't coincidental enough, Jennifer McEvoy, M.D. an MSK fellow last year, also accepted a position near Spokane, WA at Radia, an imaging facility that provides an array of imaging services.