Professor (CHS)
Vice Chair of Education

Residency Program Director
Abdominal Imaging and Intervention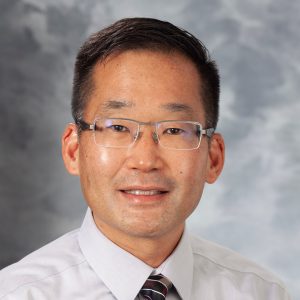 Biography
Dr. David H. Kim MD, FACR, FSAR graduated from the University of Michigan Inteflex program in 1993. This seven-year combined college and medical school experience resulted in a B.S. in Biomedical Sciences (with highest distinction) and a M.D. degree (cum laude). He undertook a preliminary year in Internal Medicine at the University of Michigan Medical Center followed by a residency in Diagnostic Radiology at the Mallinckrodt Institute of Radiology in St. Louis from 1994-1998. Dr. Kim then undertook a body imaging fellowship at Duke University Medical Center.
After a several year period in private practice in a subspecialized radiology group, Dr. Kim returned to academic Radiology and joined the Abdominal Imaging & Intervention Section at the University of Wisconsin School of Medicine and Public Health. Since then, he has authored or co-authored over 90 peer reviewed publications, 40 book chapters, and one reference textbook on CT colonography (CTC). This has included first authorship of an original research article on CTC published in The New England Journal of Medicine in 2007.
Dr. Kim helps to direct the CTC Colorectal Cancer screening program and the rectal MR cancer imaging services at the University of Wisconsin. In addition, Dr. Kim is the Vice Chair of Education and the Radiology Residency Program Director. He is a strong advocate for resident and fellow education.
Education
Undergraduate:

University of Michigan

Medical School:

University of Michigan Medical School

Residency:

Mallinckrodt Institute of Radiology

Fellowship:

Duke University Medical Center (Abdominal Imaging)