Current Projects | Research Study Details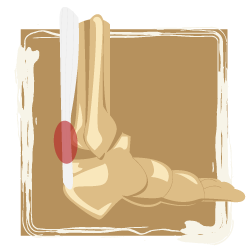 Posted on Nov 2, 2016 by the Sports, Ultrasound, MRI, Minimally Invasive Treatments (SUMMIT) Lab
Platelet-rich plasma injection therapy for Achilles tendinopathy: Correlating novel ultrasound-based biomarkers
Achilles tendinopathy (AT) is a common debilitating overuse injury characterized as a degenerative condition resulting from repetitive microtrauma seen in a wide spectrum of people, from the athlete to the middle-aged sedentary individual. To date, there is no consensus nonsurgical treatment for chronic AT and 25-45% of patients eventually require surgery. A promising treatment for overuse injury such as AT called platelet rich plasma (PRP) uses autologous platelets to increase the concentration of endogenous growth factors to promote healing on the cellular level, thereby improving pain and function. Novel ultrasound-based elastography technique called shear wave imaging (SWI) can provide quantitative measurements of tissue stiffness. If validated, US elastographic assessment will be an indispensable tool for quantitative measurement of soft tissue pathology and a low cost method to monitor healing changes and potentially guide therapy. We predict the clinical utility of this one-of-a-kind, non-invasive assessment of biological tissues to be very widespread. Therefore, the purpose of our pilot study is to evaluate SWI as an objective outcome measures for PRP therapy for chronic AT. We hypothesize that PRP treatment will decrease pain and normalize these radiologic assessments over time. This randomized controlled pilot study will compare self-reported AT pain and function with SWI and conventional US outcomes in 20 adult subjects (10 in each of 2 groups) with moderate-to-severe AT, refractory to standard of care treatment, over 24-weeks. Group 1 (PRP) will receive a single injection of PRP. Group 2 (control) will receive no intervention. Self-reported clinical and SWI and conventional US assessments will be obtained prior to injection at weeks 0 (baseline), 12, and 24.
Study runs: Jan 1, 2016 to Jan 1, 2018
Eligibility
Adults, ages 18-65 with cronic midsubstance Achilles tendon pain for at least 6 months, who have
tried other conservative treatments like rest, ice, NSAIDS, and who have no prior surgery or PRP.
What is Involved for Participants
Eligible subjects will possibly undergo the platelet-rich plasma or PRP treatment,
complete 3 research visits over the course of 24 weeks,
complete questionnaires about symptoms and provide medical history, and
complete 3 ultrasound scans of the Achilles tendon.
For more information about this research study, please contact Jan Yakey, RN, CCRC, Senior Clinical Nurse Specialist at
JYakey@uwhealth.org or call 0: (608) 265-3018
This study is part of the Sports, Ultrasound, MRI, Minimally Invasive Treatments (SUMMIT) Lab.