The University of Wisconsin Hospitals and Clinics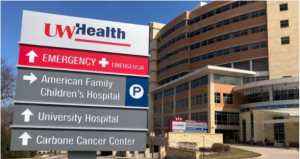 The University of Wisconsin Hospitals and Clinics rank among the finest academic medical centers in the United States and serve more than 600,000 patients in the upper Midwest.
Residents at the University of Wisconsin radiology program get a wide-ranging experience in radiologic diagnosis and intervention in an inpatient and out-patient setting as they rotate through the various hospitals and clinics within the UW Health system.
Highlights:
UW Health University Hospital is a 505-bed hospital with more than 1,100 active medical staff who annually care for nearly 25,000 admissions a year.
University Hospital is a Level One adult and pediatric trauma Center
One of the nation's largest transplant programs, performing more than 600 transplants per year
UW Specialty Clinics handle over 800,000 outpatient visits yearly.
The Carbone Cancer Center, one of 41 comprehensive centers for cancer treatment and research recognized by the National Cancer Institute, offers innovative cancer treatment to patients throughout the Midwest.
The American Family Children's Hospital, a nationally ranked 87-bed facility with pediatric and surgical neonatal intensive care unit It provides the most advanced inpatient, outpatient and home care, focusing on routing, preventive health care, as well as more specialized needs for infants through adolescents.
Unity Point Health-Meriter Hospital is a private, non-profit 337-bed hospital, offers care in every major medical specialty and provides Obstetrical Ultrasound training for radiology residents, through the UW Department of Obstetrics.
UW Health at the American Center is a newly founded 56 bed hospital and wellness center provides "universal care", and leading the regional care for inpatients and outpatients in orthopedic and sports medicine among other general surgery specialties
The Williams S. Middleton Veterans Administration Hospital This 87-bed general medical and surgical hospital also attached to University Hospital, treats approximately 34,000 veterans annually, either as inpatients or outpatients.  Residents at the VA participate in all types of imaging of VA patients
University of Wisconsin Hospitals Among Nation's Top 20 in U.S. News 
The University Hospital ranked at #17 among the more than 4,500 analyzed. A top-50 ranking means the ranked hospital is in the top two percent of U.S. hospitals.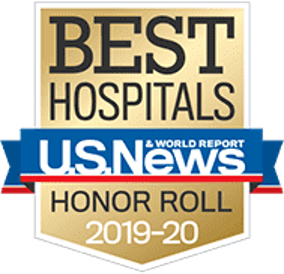 U.S. News Rankings in 2023
UW Health University Hospital in Madison, WI is nationally ranked in 3 adult and 2 pediatric specialties and rated high performing in 6 adult specialties and 16 procedures and conditions. Learn more.
Department of Radiology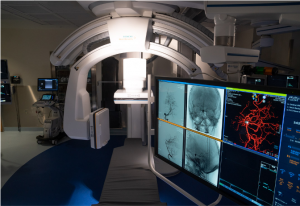 The UW Department of Radiology has the most cutting edge technology in all fields of radiology, with strong collaboration with the UW Medical Physics department and many industry partners. These collaborations maintain the department's position at the forefront of medical imaging with strong dedication to translational medicine that guarantees the newest advances in diagnostic and interventional imaging technologies are rapidly integrated into clinical care.
Advanced imaging applications include a world-renowned Virtual Colonoscopy program, a pioneering tumor ablation program, a robust musculoskeletal ultrasound imaging program, as well as numerous advances in MRI hardware and software developments, such as MRA, MR Perfusion, an intra-operative MRI scanner and a PET/MRI program.
 Hospital Map 
Clinic Map