Early detection of breast cancer saves lives. When breast cancer is caught during the localized stages, the 5-year relative survival rate is 99%, according to the American Cancer Society. High costs often prevent patients from obtaining secondary screenings – a fact that members of the Department of Radiology, including Anand Narayan, MD, PhD are looking to change.
On Wednesday, July 12, Dr. Narayan testified at a Wisconsin State Senate hearing to advocate for increased supplemental screening and diagnostic imaging coverage on behalf of the Wisconsin Radiological Society.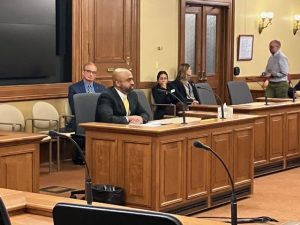 Most health guidelines recommend regular mammography screening beginning at the age of 40 or 50. However, a standard mammogram isn't always effective, especially for patients with dense or heterogenous breast tissue.
"In a dense breast tissue, it's much more difficult to identify cancer," says Dr. Narayan. While other methods (like breast MRI or ultrasound exams) exist, these secondary screenings can cost hundreds or even thousands of dollars, which can deter patients from getting scanned – potentially, delaying their diagnosis.
The proposal would require health insurance providers, including the state's public medical insurance program, to cover those screenings with no copay for patients with a heightened risk of breast cancer. For example, women with dense breast tissue or heterogeneous breast tissue, or women with a family history of breast cancer. Dr. Narayan and the Wisconsin Radiological Society also recommended that the bill be amended to ensure that health insurance providers would cover diagnostic imaging examinations without co-pays.
"We're trying to make the supplemental screening and diagnostic imaging more similar to our screening mammograms, where patients know that they'll be covered," says Dr. Narayan.
The bill is supported by multiple medical groups, including the American Cancer Society, the American College of Obstetricians and Gynecologists, the Medical College of Wisconsin and the Wisconsin Nurses Association. It has bipartisan support in both the state Assembly and Senate. Dr. Narayan is hopeful that the measure will get through the Health Committee and will pass.
Physician advocacy is also crucial since doctors – and in this case, radiologists – have a unique perspective and expertise that will help to advance critical legislation.
To Dr. Narayan, who has participated in advocacy since he was a medical student, contributing his perspective is part of his responsibility as a physician.
"As physicians, it's our obligation to stand up for our patients in this way, too," he says. "Certainly, what we do on a clinical basis is important, but a lot of factors related to the outcomes they face are outside of the hospital."
By easing the financial burden of secondary screenings, Dr. Narayan (and the other members of UW Radiology that have contributed to these efforts, like Mai Elezaby, MD) hope to improve outcomes for breast cancer patients across the state.