"Race has long been an unrecognized, unacknowledged, and ever-present force in our society and systems," said Emily Cleveland Manchanda, MD, as she began her talk at 12 PM on March 16. Dr. Manchanda was invited by Anand Narayan, MD, PhD, Vice Chair of Equity, and Jade Anderson, MD, a Musculoskeletal Imaging Fellow, to give Grand Rounds on "Getting to Equity: Dismantling Racism in Medicine".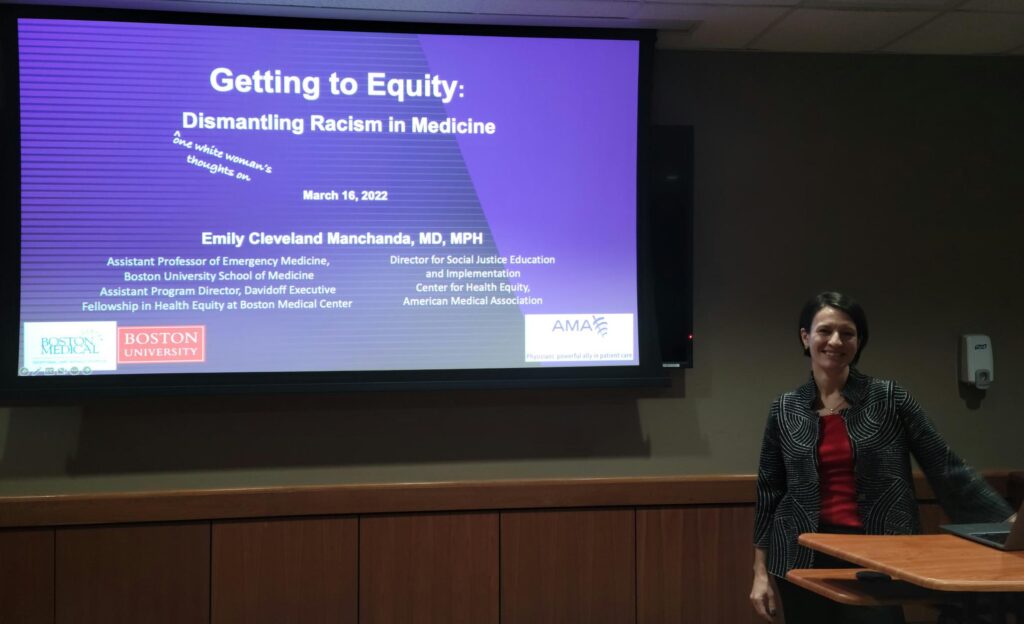 Dr. Manchanda is an Assistant Professor of Emergency Medicine at Boston University. In addition, she is the Director for Social Justice Education & Implementation of the Center for Health Equity of the American Medical Association (AMA). Her work in research, education, and advocacy focuses on mitigating the effects of racism and other systems of oppression in medical education and clinical care. 
Her talk aligns with the Department of Radiology's commitment to pursuing and promoting equity. 
Dr. Manchanda encouraged the audience to reflect on their own role participating – and perpetuating – systems that create inequitable outcomes and opportunities. 
"We have to talk about racism," she continued. "Racism causes real, physical harm on a daily basis." 
Dr. Manchanda emphasized this call to action by presenting both data and personal experiences. She clarified the terms and concepts underlying discussions of racism, such as "privilege," "white supremacy," and "intersectionality." She made it clear that racism is not an abstract issue, but a present – and harmful – reality. The consequences can be especially severe in medicine. 
Dr. Manchanda then turned her attention to the manifestations of racism – such as implicit bias – that are most relevant to medicine. "Our unconscious stereotypes can affect how we think and how we act," she explained. "These are often markedly out-of-sync with how we think, what we believe, and how we want to behave." People are particularly susceptible to implicit bias while making decisions in high-pressure situations with limited information – a common scenario for many medical professionals. 
Gone unchecked, implicit bias can produce racial microaggressions, which are subtle or indirect instances of discrimination. Still, they are no less harmful. "Microaggressions sap the strength of the whole community," said Dr. Manchanda. 
Addressing structural, institutional, and systemic racism – in medicine and beyond – will demand the committed and thoughtful effort of entire communities. Dr. Manchanda's talk highlighted the importance of this work and the responsibility each individual has in asking themselves about their role within these inequitable systems. 
"When we identify racial inequities and address them, it doesn't just improve care for the people who have been most harmed," said Dr. Manchanda. "It improves care for everyone."