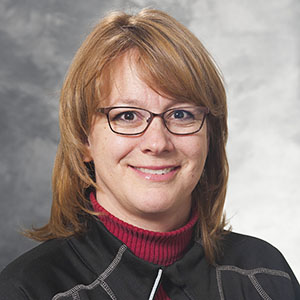 Dana Walker is retiring from UW Health after 33 years in the Department of Radiology. She started as a staff sonographer in 1989 with the University of Wisconsin Hospital and Clinics, back when "ultrasound services were only offered in a single department with four rooms," according to Gina Greenwood, MBA, Radiology Manager. In her 33 years of service, she was promoted to Lead Sonographer and later to Manager in 2009. During Dana's tenure, the ultrasound services have expanded to eight separate UW Health locations in the Madison area. 
Section Chief of Abdominal Imaging and Intervention, J. Louis Hinshaw, MD has worked with Dana for over 20 years. He said, "I will miss a lot of things about working with Dana, but probably miss most her 'can do' attitude and dedication to the well-being of her technologists and the patients.  She has always been dedicated to doing the right thing!" Gina Greenwood added, "Dana has been a tireless advocate for sonography as a discipline. She promotes sonography as a dose reduction strategy and has been at the forefront of incorporating new applications and uses for sonography to diagnose and treat. She has trained countless sonographers across the country and has impacted healthcare in innumerable ways." 
Her impact on the field of ultrasound has also expanded internationally, with her participation in a volunteer trip to Nicaragua to establish an ultrasound program for those in need. 
Congratulations, Dana, on your upcoming retirement!