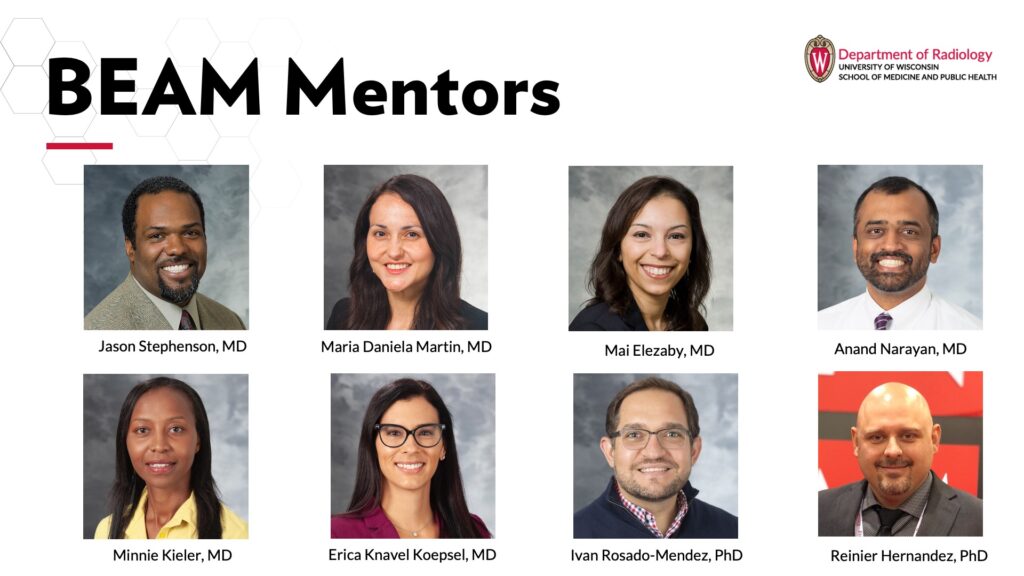 Eight faculty members in the Department of Radiology have volunteered their time as a BEAM (Building Equitable Access to Mentorship) Mentor for the 2021-2022 academic year.  
Drs. Martin, Stephenson, and Hernandez have previously served as BEAM Mentors. Drs. Knavel Koepsel, Rosado-Mendez, and Hernandez are currently in the Centennial Scholars/Centennial Clinicians Program. 
BEAM is a mentorship program that matches faculty with students from underrepresented backgrounds in medicine to obtain relevant social and cultural capital to enhance their own professional development and academic success. Each mentor is assigned a pod of M1 students whom they meet with approximately 6 times in the academic year. All mentors receive training in culturally sensitive mentoring with competency-based education and extensive evidence-based mentorship education workshops provided by the BEAM Program. Additionally, a stipend is provided for each mentor to cover expenses associated with mentoring activities. 
Associate Dean for Multicultural Affairs for Health Professions Learners, Jason Stephenson, MD commented, "The large number of BEAM mentors from Radiology is emblematic of the service mission of the Department. It shows that our goal is to benefit the institution, including other departments, in their efforts to improve medicine and medical care. Central to that goal is mentoring medical students, and an important subset of that is providing mentor opportunities for populations who have been shown to have less access and opportunity to develop mentor relationships. This is key to furthering diversity and inclusion in the medical field, and our faculty presence in the program is representative of the purposeful efforts of leadership in promoting the spirit within the Department, as well as the generosity and enthusiasm of our faculty." 
If you are interested in becoming a BEAM Mentor, contact Carrie Brinkmeier, BEAM Program Administrative Support Professional – cbrinkmeier@wisc.edu.