The National Institutes of Health (NIH) All of Us Research Program is working to build one of the world's largest and most diverse datasets to advance precision medicine research. Precision medicine – which takes individual factors like environment, lifestyle, family health history, and even genetics into account – might lead to reduced health care costs and improved patient outcomes. 
Despite the potential of precision medicine to improve health care, significant challenges remain before this new kind of medicine can become standard practice. One such impediment is the lack of a single – and representative – resource for researchers. Researchers investigating the efficacy of new "personalized" treatments often spend time and resources on creating new databases for each study, which may focus on a single health condition or a limited group of people. 
By consolidating health data of 1 million or more participants, the All of Us database will be a powerful tool for future research on a wide variety of health conditions.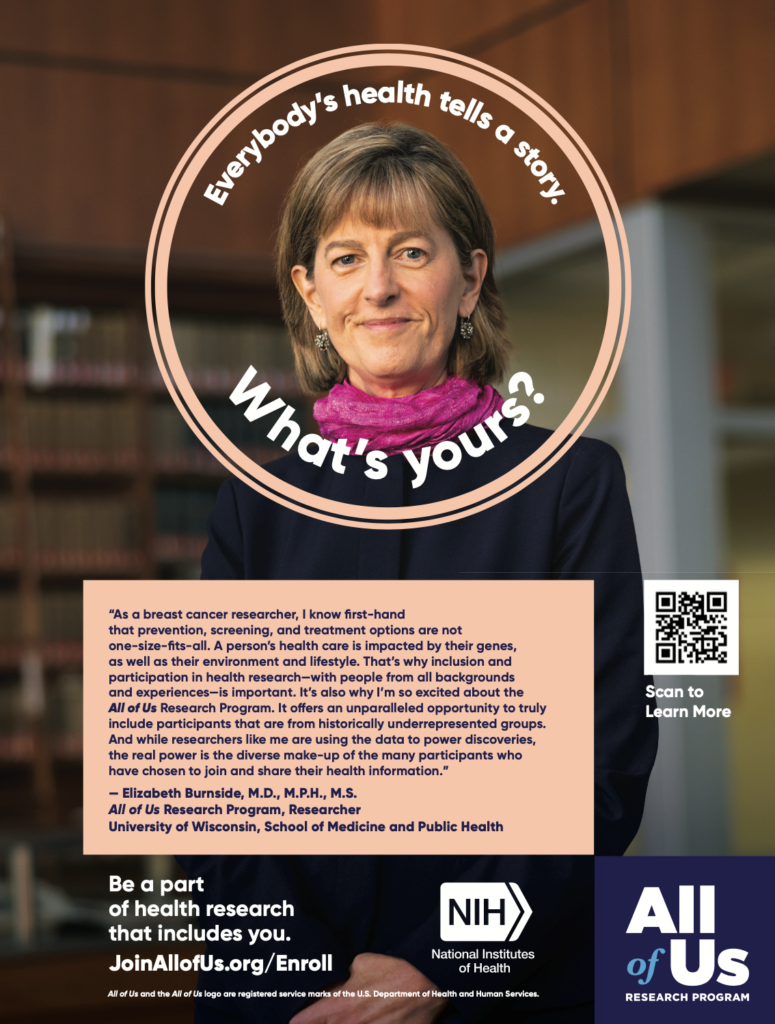 A recent print ad campaign for the program in People and Time magazines featured Elizabeth Burnside, MD, a Professor in the Department of Radiology and Senior Associate Dean for the School of Medicine and Public Health. Dr. Burnside is a co-principal investigator of All of Us at UW-Madison. But her passion for their project isn't just academic: She has a personal motivation, too. 
"I was a second-year medical student, and my mother was diagnosed with breast cancer," Dr. Burnside shared in an All of Us video. Even then, personalized treatment was on her mind. "I thought, 'Maybe they can do it better if they consider the individual characteristics of my mom.'" 
In her current research projects, Dr. Burnside works to optimize – and individualize – screening and treatment protocols for breast cancer. Her partnership with All of Us is the latest step on her journey towards improving population-based screening and diagnosis of breast cancer. 
"My dream is that we can really personalize prevention, screening, and treatment," said Dr. Burnside. "Helping mothers, sisters, families avoid a disease that really just takes too much, every year." 
UW-Madison, with UW Health, has been engaged in the program's recruitment and enrollment in Madison and Milwaukee since 2017. In the years since, All of Us has made impressive progress towards its goal of 1 million participants. To date, more than 639,000 participants have registered; 447,000 of which have shared electronic health records, provided physical measurements, and donated biospecimens for future analysis.
More than 80% of the participants belong to groups (such as racial minorities, the LGBTQ+ community, people with low income or limited education and more) that are underrepresented in biomedical research. Past research programs gathered only about 5% of their data from these groups, making All of Us the most diverse database of its kind. 
We are proud to highlight Dr. Burnside's participation in this landmark initiative! Learn more about the All of Us Research Program here.