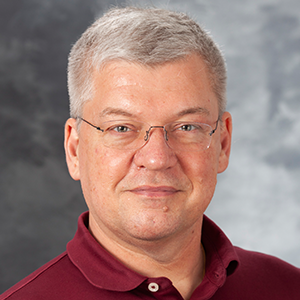 Thoracic Imaging Visiting Professor Brian Mullan, MD started in the Department of Radiology in the fall of 2020. He came from the University of Iowa, where he served as Director of Thoracic and Cardiovascular Imaging, Director of CT and General Radiography, Director of the Advanced Imaging and Analytic Laboratory, and Clinical Director of PACS, among other positions. Learn more about Dr. Mullan below.
Q: Where are you from?
A: I'm originally from Chicago, IL but have spent the last 30 years in Iowa City.
Q: Where did you attend Medical School?
A: I went to the University of Chicago in Chicago.
Q: Why did you choose Radiology?
A: Three reasons. First, I really like the problem-solving aspect of it. That's the core of what we do. Second, I enjoy the collegial, collaborative spirit of radiology. Providers from all over the hospital come together around the imaging aspects of patient care like nowhere else in medicine. Third, I like the technology. When I gave a talk at Disney World, signs were all around about "The Disney Magic". But then I gave a talk on quantifying calcium in the coronary artery walls while the heart was beating, and the patient didn't even have to untie their shoelaces – now that's magic!
Q: What is your specialty?
A: I'm a thoracic radiologist. My academic interest has been in all facets of medical education and helping researchers translate their work to the clinics.
Q: What are your career interests and goals?
A: Fundamentally, regardless of the arena, my core goal is to help people heal. For me, healing doesn't mean anything is broken. It's just combining someone's innate, perhaps untapped or unrecognized potential, with my experiences and guidance to help them move forward to whatever goal is right for them. Whether teaching to help a student learn something, researching to work with a peer to discover new ideas, doing a deep dive into a patient's chart to gain that insight that changes our understanding of what's going on with them – these are all expressions of that. Key to all this, my goal is to work with them to creatively solve significant problems with the solutions leaving the world at least a little bit better off.
Q: Why did you choose UW and what are you excited about at UW?
A: As I was starting the third phase of my career, I wanted to look for new adventures and opportunities. I spent the 1st phase learning to be a radiologist and educator, the 2nd doing those and a lot of administration. Now, I'm looking to administer less and explore more. UW is an exciting place to do so due to the variety, energy, and expertise of the people here. At this point, I'm not exactly sure where my path will lead, but I know that with the extraordinary people and resources here, the only limitation will be my imagination. That's exciting!
Q: What are your hobbies?
A: I enjoy cooking, gardening, running the family tree farm, and concocting things in my basement workshop.