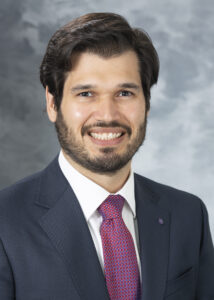 Giuseppe Toia, MD, MS recently joined the Department of Radiology as an Assistant Professor (CHS) in the Abdominal Imaging and Intervention section. Continue reading to learn more about Dr. Toia. 
Q: Where are you from?
 A: Chicago, IL 
Q: Where did you attend medical school?
A: Loyola University in Chicago 
Q: Why did you choose Radiology?
A: Going through medical school, I pretty much liked everything, and I couldn't decide for a while. I was on a neurosurgery track, and as I went through the course, I realized I liked everything. So, radiology showed its way for being a learning-based field. I like the idea that I am helping other physicians with figuring out a diagnostic plan for treatment.  
Q: What are your clinical and research goals?
A: Clinical interests are liver and pancreas pathology. I like oncology imaging, as well, and finding novel applications of CT technology to find new ways to diagnose disease. I also like spectral CT imaging to figure out different ways to diagnose abdominal disease. I like working with physicists and medical engineers and figuring out ways to improve patient care. For research, I like CT optimization – figuring out the best way to implement CT service – both for radiologist and patient. I also like deep learning. I like to figure out how we can use deep learning to optimize CT and ultimately how we can make any aspect of the radiologist's day better through deep learning. 
Q: Why did you choose UW/What are you excited about at UW?
The community of people. That was the first thing that I struck me when interviewing. I had a couple of mentors of mine relocate to UW. The community is so exciting to be a part of, and at the same time, they are world-renowned radiologists. My wife and I were looking for a small-town college feel that is closer to family. I feel very fortunate to cross paths with UW because it feels like a perfect fit. 
Q: What are your hobbies?
A: I'm a musician. I've played piano since I was 10 and bass guitar since I was 14. I like listening to music, going to concerts, and playing in a band with childhood friends. I also like hockey – I'm a goalie. Another hobby of mine are board games. I like to collect them from various genres and introduce them to people. I like outdoor activities – hiking, trying to get into cross country skiing. I also follow NHL and F-1 racing religiously.