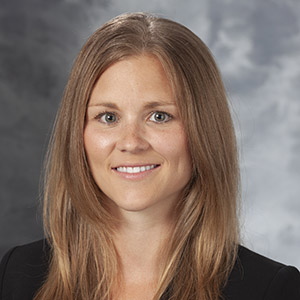 Community Radiology Clinical Assistant Professor Kelly Capel, MD completed her residency in Diagnostic Radiology and her Neuroradiology fellowship at UW before becoming a faculty member. Learn more about Dr. Capel below.
Q: Where are you from?
A: Kenosha, WI
Q: Where did you attend Medical School?
A: Rush Medical College in Chicago, IL
Q: Why did you choose Radiology?
A: I was interested in multiple areas as a medical student, but I felt that in a large majority of complicated cases, the next step often depended on imaging. I felt helpless at times when I was dependent on radiology reads to dictate management of my patients. I wanted to be able to incorporate my clinical knowledge with imaging findings to impact patient care and outcomes.
Q: What is your specialty?
A: Neuroradiology
Q: What are your career interests and goals?
A: My specific interests are in head and neck imaging and perfusion and flow imaging with a focus on strokes. I am working on some research in these areas with Dr. Strother, Dr. Eisenmenger, Dr. Aagaard-Kienitz, and the medical physics team. In the future, I aspire to increase my focus on teaching medical students and radiology residents, as I find education extremely rewarding. My drive in education was always question and case based. Why are we doing this imaging study? Why did we choose to image the patient this way? What is the clinical impact, and how can we (in radiology) add value? With great mentors like Tabby Kennedy and Jason Stephenson, I can only hope to follow in their footsteps with a career focused on education.
Q: Why did you choose UW/What are you excited about at UW?
A: When I came to UW to interview as a medical student, I was specifically interested in programs with a well-organized and thorough education curriculum. I still remember my interview with Dr. Allison Grayev discussing the neuro curriculum for residents. Maybe that was my first step into Neuroradiology? I was excited about how welcoming the faculty were to trainees, how many residents were on a first name basis with attendings, and how the staff were passionate about teaching. Research resources seemed plentiful with a goal of innovation throughout all sections of the department.
Q: What are your hobbies?
A: My guilty pleasure is that I love trivia. Before the pandemic, I enjoyed going to trivia nights, traveling across the country and internationally, and attending Badger games here in Madison. For now, I mostly spend my free time playing with my kids, Owen (2.5 years) and Ava (8 months). Since I played college soccer, I enjoy kicking the ball around and running when the weather permits. Hopefully, I will get back into playing guitar more as my kids grow up.