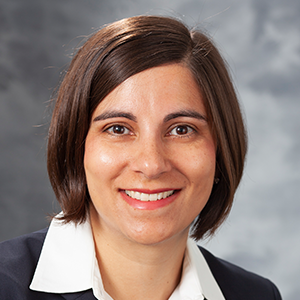 Tabby Kennedy, MD received an Impact Award from the University of Wisconsin School of Medicine and Public Health's (SMPH) chapter of the Group on Women in Medicine and Science (GWIMS). This honor recognizes her commitment to being a mentor, advocate, and role model to other women in science at UW. 
Part of the Association of American Medical Colleges, GWIMS aims to bring together and recognize thought leaders who explore topics in leadership and professional development for women in medicine and science. 
"Dr. Kennedy is one of our most outstanding and innovative physician educators," said Erica Knavel Koepsel, MD. "Her contributions to education, mentorship, leadership, and faculty development are unparalleled." 
Dr. Kennedy has been a part of the Department of Radiology since 2010. She is recognized both for her clinical expertise in head and neck imaging as well as for delivering web-based, interactive educational content. She has won numerous teaching awards, including the Wisconsin Medical Alumni Association Distinguished Clinical Sciences Teaching Award in 2017 and 2021. Nationally, she has served as chair of the American Society of Neuroradiology Fellowship Director Committee. 
Throughout her time in the Department, she has also made it a priority to mentor trainees and faculty members – a commitment made evident by this award, which she was nominated for by early-career faculty. 
"I am honored to have received this award," says Dr. Kennedy. "I am grateful for the mentorship that I have received from my numerous role models in the Department of Radiology and at SMPH and am committed to supporting others in the same way. I appreciate the Group on Women in Medicine and Science for supporting the careers of women in science at UW." 
The latest issue of the Quarterly included an article highlighting the six faculty who received GWIMS awards, including Dr. Kennedy. Read the full article here, on page 32-3.