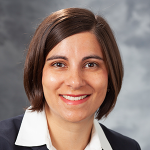 In April, Neuroradiology Section Chief and Associate Professor Tabby Kennedy was selected as a faculty inductee into the UWSMPH Alpha Omega Alpha (AOA) Medical Honor Society. AOA recognizes individuals for their excellence in scholarship, professionalism, leadership, and teaching. Each year, faculty are asked to nominate another faculty member that is deserving of induction into the honor society. The criteria for induction include recognizing high educational achievement, honoring gifted teaching, encouraging the development of leaders in academia and the community, supporting the ideals of humanism, and promoting service to others.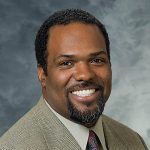 Director of Medical Student Education and Associate Professor Jason Stephenson nominated Dr. Kennedy for induction. "The criteria for AOA are literally a point-for-point recap of the highest-ranking items on a much longer list of Dr. Kennedy's noteworthy attributes. I have had the good fortune to work with her for several years and witness first-hand the remarkable quality of work that she does and the steadiness and visionary nature of her leadership. I decided to nominate her because I could think of no other single human being that is a more worthy and appropriate match for this organization," says Dr. Stephenson.
In addition to her induction into the AOA, Dr. Kennedy was also awarded the Women in Neuroradiology Leadership Award. This is a joint award from the Foundation of the American Society of Neuroradiology (ASNR), the American College of Radiology (ACR), and the American Association for Women Radiologists (AAWR) that recognizes women that have demonstrated leadership in neuroradiology. Dr. Kennedy believes she made her greatest impact through the websites she created. These websites allow her to reach a broader audience and break down complex topics to help others gain a better understanding of the material. One website is focused on neuroradiology, while the other is focused on radiology of the head and neck.
Dr. Kennedy notes that being recognized by her peers makes these awards meaningful. "I was really honored to have received this recognition. In my mind, these awards are recognizing my sustained commitment to the education of medical trainees and advancement of the field of neuroradiology."