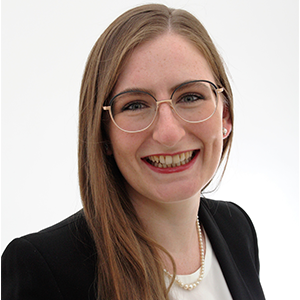 Thekla Oechtering, MD was recently awarded the Albers-Schönberg Medal from the German Röntgen Society, becoming the first woman and youngest recipient to ever receive this award. The Albers-Schönberg Medal recognizes innovators in the field of radiology and was first given in 1932 to honor the memory of co-founder of the Society, Heinrich Albers-Schönberg, who was the first university professor of radiology in Germany.  
Dr. Oechtering first got involved with the German Röntgen Society as a first-year resident when she was asked to represent the "Young Researchers for the Futures." She explains, "In this position, I organized yearly meetings with internationally renowned speakers. Two years later, in parallel, I started representing radiology residents on the board of the German Röntgen Society. I found it odd to represent the residents without knowing what they needed as there was no proper organization. That's why I founded the Young Radiology Forum together with some colleagues. After 4 years, it now has more than 2000 members and makes up about 20% of the whole Röntgen Society. We have representatives in every study group that contributes actively to congress. They just published our nationwide education curriculum." 
Dr. Oechtering's outstanding accomplishments put her amongst a distinguished group of individuals. She says, "I was shocked when I looked at the first names of the previous laureates and only found names of men who received the medal in the second half of their careers. I would have never thought that the Society would give such a prestigious award to somebody who just completed her residency 2.5 years ago. I am deeply honored." 
Congratulations, Dr. Oechtering!