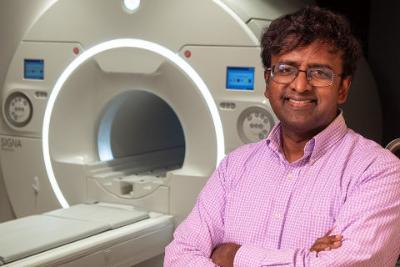 Vivek Prabhakaran, MD, PhD was named Co-Director of the Institute of Clinical Research and Translational Research (ICTR) TL1 Training Program. Dr. Prabhakaran first became involved with the ICTR as a KL2 Scholar and describes ICTR as a "second home". He said, "It was very important for my career development as it allowed me to have the protected time and funding for research as an Assistant Professor as well as mentorship and guidance to be a successful clinical and translational multidisciplinary researcher. I have also been involved in ICTR Scientific Review Committee for many years. My research group has received numerous pilot awards, and I have worked with several ICTR TL1 predoctoral fellows as well over the years." 
Dr. Prabhakaran has a lot to look forward to in his new role. "I hope to guide the ICTR TL1 predoctoral and postdoctoral fellows in conducting successful multidisciplinary basic, translational, and clinical research. I would like to specifically emphasize the importance of team science and how this will lead to high quality research and publications as well as being successful in obtaining grants. In addition, I would like to help them network and prepare them for their future career," he said. 
Elizabeth Burnside, MD, MPH, MS, FACR currently serves as the Deputy Director of the Institute of Clinical Translational Science.  She said, "As a past ICTR KL2 scholar, pilot awardee and reviewer, and TL1 mentor, Dr. Prabakaran has already shared his leadership gifts with ICTR and contributed substantially to clinical translational research activities.  He embodies the values of team science and interdisciplinarity so crucial to translating innovation to practice and will share these lessons with the next generation of TL1 trainees." 
The TL1 Training Program funds both predoctoral and postdoctoral fellowships to support the next generation of translational researchers. Those that are interested are encouraged to apply to these incredible opportunities. Applications for the TL1 Predoctoral Fellowship are due in March annually, while the TL1 Postdoctoral Fellowship accepts applications on a rolling basis. 
Congratulations, Dr. Prabhakaran!