Bioethics seminar: Pilar Ossorio
October 5, 1:30PM
Fluno Center
Seminar title:
Governing Machine Learning for Health Care Justice.
Synopsis:
Machine learning holds great promise for improving and streamlining health care, but outside of medicine scientists have demonstrated that machine models can incorporate existing race, gender, class and other inequalities, and perhaps even exacerbate them.  Healthcare is no exception to the rule that if you train your algorithms on data that reflect human unfair inequality and prejudice, your model will replicate those biases.  In this presentation we will consider how machine learning can be incorporated into health systems with a type of oversight and set of norms that maximizes the likelihood of decreasing health disparities.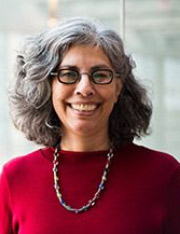 Speaker Bio
Pilar Ossorio, PhD, JD, is Professor of Law and Bioethics at the University of Wisconsin-Madison (UW) and Ethics Scholar-in-Residence at the UW-affiliated Morgridge Institute for Research.  She is co-Director of the Law and Neuroscience Program, leader of the Ethics Core for UW's Big Data Center (the Center for Predictive Computational Phenotyping), and Director of UW's Research Ethics Consultation Service.  She has been a member of numerous national and international science policy advisory committees, including  the DHHS Secretary's Advisory Committee on Human Research Protections, the National Heart Lung and Blood Advisory Council, National Advisory Council for Human Genome Research, the Ethics Committee of the American Society of Gene and Cell Therapy, and the Ethics Committee of the American Association of Anthropological Genetics.  She has served on numerous committees of the U.S. National Academies, and on many professional working groups.  She participated in or advised the International HapMap Project, the 1000 Genomes Project,  the Human Microbiome Project, and the NIH-wide Data Commons Pilot.  Her research interests include ethics and governance of big data biology, data sharing, ethics and regulation of human subjects research, uses of racial categories in science, and governance of emerging technology.  She received her Ph.D. from Stanford in Microbiology and Immunology, and her law degree from U.C. Berkeley.