Program Information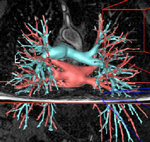 Health care decisions in the future are going to be rigorously guided by the cost effectiveness of treatment and their outcomes. Current medical imaging training lacks exposure to the business principles necessary to successfully manage a radiology department in this rapidly changing healthcare economy. In cooperation with the University of Wisconsin-Madison Wisconsin School of Business, we are pleased to announce a novel fellowship opportunity that combines an Executive MBA program with a Clinical MRI fellowship.
Over the two year period of this combined MRI/MBA Fellowship, the successful applicant will complete a weekend Executive MBA program and a Clinical MRI fellowship. During the fellowship the applicant will have dedicated academic time tailored to meet their needs. The composition of the clinical MRI schedule, call responsibilities and the total compensation package are designed to meet the requirements of both curricula.
Applicants to the Executive MBA program may also apply for the Wisconsin Evening & Executive MBA Merit Scholarship, which currently covers 25 percent of tuition during the program for award recipients. This scholarship is a competitive program, which is open to all applicants of the Executive MBA program. Award recipients are notified at the time of the admissions decision.
Interested individuals, eligible for certification by the American or Canadian Board of Radiology, should contact: Ashley Hinrichs, administrative assistant for the UW-Madison Combined MRI/MBA Fellowship at: AHinrichs2@uwhealth.org