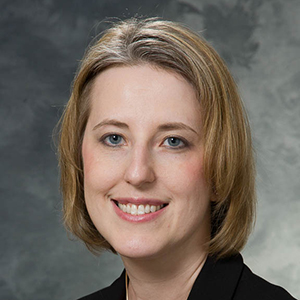 Assistant Professor Amy Fowler, MD, PhD has had her latest research published in the Radiological Society of North America's journal Radiology: Imaging Cancer. She co-authored the publication with Radiology Department faculty Scott Perlman, MD, MS, Alan McMillan, PhD, and Roberta Strigel, MD, MS, and other colleagues from SMPH, the Carbone Cancer Center, and the Medical Physics Department. The manuscript is titled "Measuring Glucose Uptake in Primary Invasive Breast Cancer Using Simultaneous Time-of-Flight Breast PET/MRI: A Method Comparison Study with Prone PET/CT". The study compared simultaneous breast PET/MRI scans to PET/CT scans, which are the reference standards. They found that the PET/MRI scans provided an acceptable approximation of tumor glucose uptake and metabolism of primary invasive breast cancer compared to the PET/CT scans.
In addition to the manuscript, there was also a commentary about the study published in the same journal. The commentary, written by David Mankoff, MD, PhD and Suleman Surti, PhD, both from the University of Pennsylvania Department of Radiology, summarizes and analyzes the study. The commentary notes that the work done by Dr. Fowler and colleagues is an important contribution to breast cancer PET/MRI literature that provides a baseline for many future research projects.
Dr. Fowler and colleagues were very excited to share their results in the publication. They are also eager to build on this study in their current and future research. "Currently, we are using the quantitative methods established by this study in two ongoing trials of breast PET/MRI using targeted molecular imaging agents for estrogen receptor and progesterone receptor for patients with breast cancer," says Dr. Fowler.
The manuscript can be found at: https://pubs.rsna.org/doi/abs/10.1148/rycan.2021200091
The commentary on the manuscript can be found at: https://pubs.rsna.org/doi/abs/10.1148/rycan.2021200150