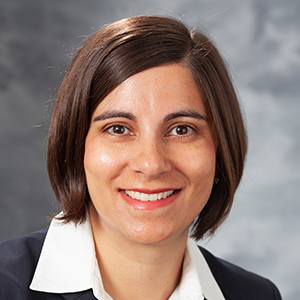 Neuroradiology Section Chief and Associate Professor Tabby Kennedy, MD was awarded the Wisconsin Medical Alumni Association's (WMAA) Clinical Science Teaching Award. Each year, a clinical science teacher from Madison, La Crosse, Marshfield, Milwaukee, and Green Bay is selected as an award recipient. The UW fourth year medical students voted and chose Dr. Kennedy to receive the award this year, which will be presented to her during the virtual Match Day celebration for fourth year medical students on March 19th.
This award, which recognizes Dr. Kennedy for her commitment to excellent teaching, is one of multiple awards that she has received recently for her educational efforts. Last year, she was selected as a faculty inductee into the UWSMPH Alpha Omega Alpha (AOA) Medical Honor Society, and received the Women in Neuroradiology Leadership Award. Earlier this year, she was awarded the American Society of Neuroradiology (ASNR) 2021 Outstanding Contributions in Neuroradiology Education Award.
Dr. Kennedy says that having the medical students choose her for this award makes it special. "There is nothing more rewarding than being recognized by one's students. I am honored to have been selected by the graduating fourth year medical students for this year's clinical science teaching award," she says.
Congratulations Dr. Kennedy, and thank you for your dedication to our students!