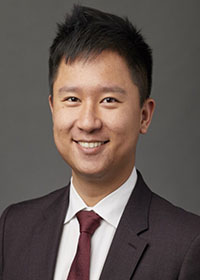 Daniel Chu, MD-PhD student in the Neuroscience Training Program, received a grant from the American Epilepsy Society for $30,000 for his project, "Characterizing Connectome MRI Abnormalities in TLE Patients." The objective of this grant is to characterize aberrant white matter connectivity utilizing multi-shell connectome diffusion weight MRI (ms-dMRI) from the Epilepsy Connectome Project. Daniel will be mentored by Vivek Prabhakaran, MD, PhD. 
Chu said, "I was elated with the news of this new funding and immensely grateful that the American Epilepsy Society can appreciate the importance of the work conducted in Dr. Vivek Prabhakaran's lab." Dr. Vivek Prabhakaran's lab, the Neuroimaging Research Program, is a source of comprehensive neuroimaging research and advanced neuroimaging clinical services such as fMRI, DTI, and more, for the entire neuroimaging community at the University of Wisconsin–Madison. 
Daniel Chu is excited to work with many mentors, including Dr. Aaron Struck, Dr. Beth Meyerand, Dr. Veena Nair, Dr. Nagesh Adluru, Dr. Bruce Hermann, Dr. Elizabeth Felton, and more. He said, "They are all absolutely wonderful mentors and are integral to my training as a future physician scientist." 
Congratulations, Daniel!