The nuclear medicine residency program at University of Wisconsin Hospital and Clinics (UWHC) is a three-year program which is accredited by the Accreditation Council for Graduate Medical Education and satisfies requirements of the American Board of Nuclear Medicine. The residency provides training and experience in in-vitro procedures, therapeutic applications of radioactive materials, and general nuclear imaging, including positron emission tomography (PET). New curriculum includes training in CT of the head and neck, chest, and abdomen with the nuclear medicine residents rotating with diagnostic radiology residents, reading, and dictating the exams. There is a strong emphasis in nuclear cardiology. The Nuclear Medicine/PET Imaging Section of the Department of Radiology serves more than 400 beds at University Hospital and the William S. Middleton Memorial Veterans Hospital, and performs more than 6,000 examinations a year. In addition to its three nuclear medicine physicians and two nuclear cardiologists that share the nuclear cardiology load, the Nuclear Medicine/PET Imaging Section has nine full-time technologists, a radiopharmacist, an administrative assistant, and two radiopharmacy technicians. The section features modern equipment including:
(1) – Three-headed SPECT system
(3) – Two-headed SPECT/CT systems
(1) – Single-headed SPECT system
(3) – X-ray bone densitometers located at satellite clinics & UWHC
Active research on a current-generation PET/CT scanner and a dedicated PET scanner involves brain, cardiac, and whole body imaging. Other research includes general nuclear medicine and nuclear cardiology projects. Residents are encouraged to participate in ongoing projects and to develop new projects.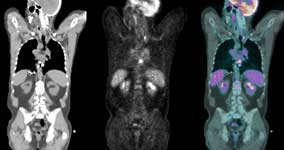 Annual formal teaching includes: a curriculum of seminars, didactic nuclear medicine and appropriate radiology schedules, weekly interesting case conferences, journal club, coronary angiogram correlation, in addition to multiple daily radiology and medicine conferences.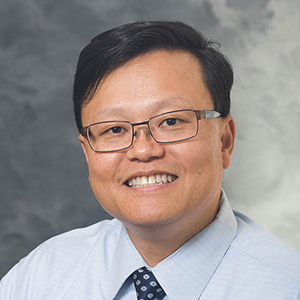 The University of Wisconsin Section of Nuclear Medicine provides image interpretation of a wide range of nuclear medicine procedures including positron emission tomography (PET) examinations. The section is composed of experts in multiple areas including general nuclear medicine and PET imaging, nuclear cardiology, and the imaging and treatment of patients with thyroid cancer. Therapies in…
Questions? Contact Us
Steve Y Cho, MD Program Director Nuclear Medicine Residency Program University of Wisconsin School of Medicine and Public Health 600 Highland Avenue Madison, WI 53792-3252 (608) 263-5048 SCho@uwhealth.org
-or-
Aaron T Pinkston Grad Medical Edu Prog Mgr University of Wisconsin School of Medicine and Public Health 600 Highland Avenue Madison, WI 53792-3252 (608) 263-0889 APinkston@uwhealth.org