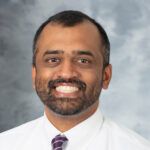 Anand Narayan, MD was appointed as Assistant Editor of two national publications: Journal of the American College of Radiology (JACR) & American Journal of Roentgenology (AJR). His appointment with the JACR is a one-year renewable term commitment, where he will review a minimum of 12 manuscripts a year. His appointment with the AJR is a two-year term commitment, starting in January 2022.  
Dr. Narayan said, "I'm greatly honored to serve as Assistant Editor for JACR and AJR. These roles will provide me with an opportunity to foster my long-standing interests to promote epidemiology research methods within Radiology with editorial team members who are committed to publishing high quality imaging research." 
Dr. Narayan will serve alongside fellow UW Radiology faculty members, Kirkland Davis, MD, FACR; Andrew Ross, MD, MPH; Joseph Tang, MD; and Michael Tuite, MD, FACR on the AJR Editorial Board.