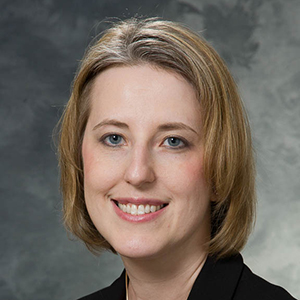 Assistant Professor Amy Fowler, MD, PhD has been inducted as a Fellow of the Society of Breast Imaging (SBI). SBI Fellowship is one of the highest honors members can receive within the society and recognizes outstanding contributions and service to breast imaging.
Fellows must be a recognized leader in the field of breast imaging. To demonstrate leadership, fellowship candidates need to have sustained success in at least three of these categories: breast-related scientific or academic accomplishment; medical education in breast imaging, breast disease or wellness; administrative of political activities impacting breast health; and service to patients or to SBI.
Dr. Fowler has contributed significantly to the field of breast imaging while leading the Fowler Research Group. Earlier this year, Dr. Fowler and colleagues had their research published in Radiological Society of North America's journal Radiology: Imaging Cancer. They compared simultaneous breast PET/MRI scans to PET/CT scans and found that the PET/MRI scans provided an acceptable approximation of tumor glucose uptake and metabolism of primary invasive breast cancer compared to the PET/CT scans.
A virtual induction ceremony took place on April 26th as part of the SBI Fellows Meeting. Dr. Fowler was introduced by Breast Imaging and Intervention Section Chief and Associate Professor Roberta Strigel, MD, MS, who is also an SBI Fellow.
Dr. Fowler was proud to receive this distinction for her work in breast imaging. "I am honored to be selected as a fellow and am looking forward to the additional opportunities to participate within the Society," she says.
Congratulations, Dr. Fowler!