University Hospital ranks among the finest academic medical centers in the United States. The graduate medical education program rests on a solid foundation anchored by opportunities in more than 50 specialty and subspecialty programs. University Hospital has long been recognized as a national leader in many specialized fields of medicine, including radiology, cancer treatment, pediatrics, ophthalmology, surgical specialties and organ transplantation. The hospital is frequently sited in publications rating the nation's best medical facilities. For instance, University Hospital ranked among the top 50 of the nation's teaching hospitals in eight medical specialties, according to the 2004 edition of U.S. News and World Report's "America's Best Hospitals" guide.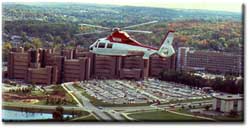 Services at University Hospital are comprehensive and wide-ranging. The 478-bed hospital has more than 900 active medical staff who annually care for more than 20,000 inpatients from throughout Wisconsin and around the world. More than 100 primary care and specialty clinics handle more than 400,000 outpatient visits yearly.
There are 51 full and part-time faculty in the UW radiology department. Combined with the adjacent VA Hospital, over 211,000 examinations are performed per year in all imaging modalities including MR Angiography.
This is an exciting time to be a part of the University of Wisconsin. The Department of Radiology has just completed construction of a 22,000 square foot addition and is continuing with the remodeling of our existing 18,000 square feet. We also opened the UW Comprehensive Breast Center, where we offer our patients the full complement of services at one site.
The UW Comprehensive Cancer Center, one of 26 comprehensive centers recognized by the National Cancer Institute, offers innovative cancer treatment to patients from throughout the Midwest. At any one time, the center manages more than 100 clinical trials, offering patients an opportunity to participate in studies of promising new therapies.
In addition, UW Children's Hospital – a complete medical and surgical center within University Hospital – provides a full range of services to meet the special health care needs of children and their families. Expert faculty and staff provide the most advanced inpatient, outpatient and home care, focusing on routing, preventive health care, as well as more specialized needs for infants through adolescents. UW Children's Hospital specialized in every field from allergy to adolescent medicine, cardiology and organ transplants.
All of the health care partners associated with the University of Wisconsin make up a comprehensive system known as UW Health. These partners include University Hospital, the UW Comprehensive Cancer Center, UW Children's Hospital, University Health Care, University Community Clinics, the UW Medical Foundation, and clinical programs of the UW Medical School.
University Affiliated Hospitals
William S. Middleton Veterans Administration Hospital, a 120-bed general medical and surgical hospital attached to University Hospital, serves about 96,000 outpatients and 5,700 inpatients yearly. Imaging equipment includes Ultrasound, Computed Tomography, Angiography and a 1.0 Tesla MR scanner. There are four faculty radiologists who staff the VA and teach residents. Residents at the VA participate in all types of imaging of VA patients.
Meriter Hospital, a private, non-profit 517-bed hospital, offers care in every major medical specialty and provides Obstetrical Ultrasound training through the UW Department of Obstetrics.