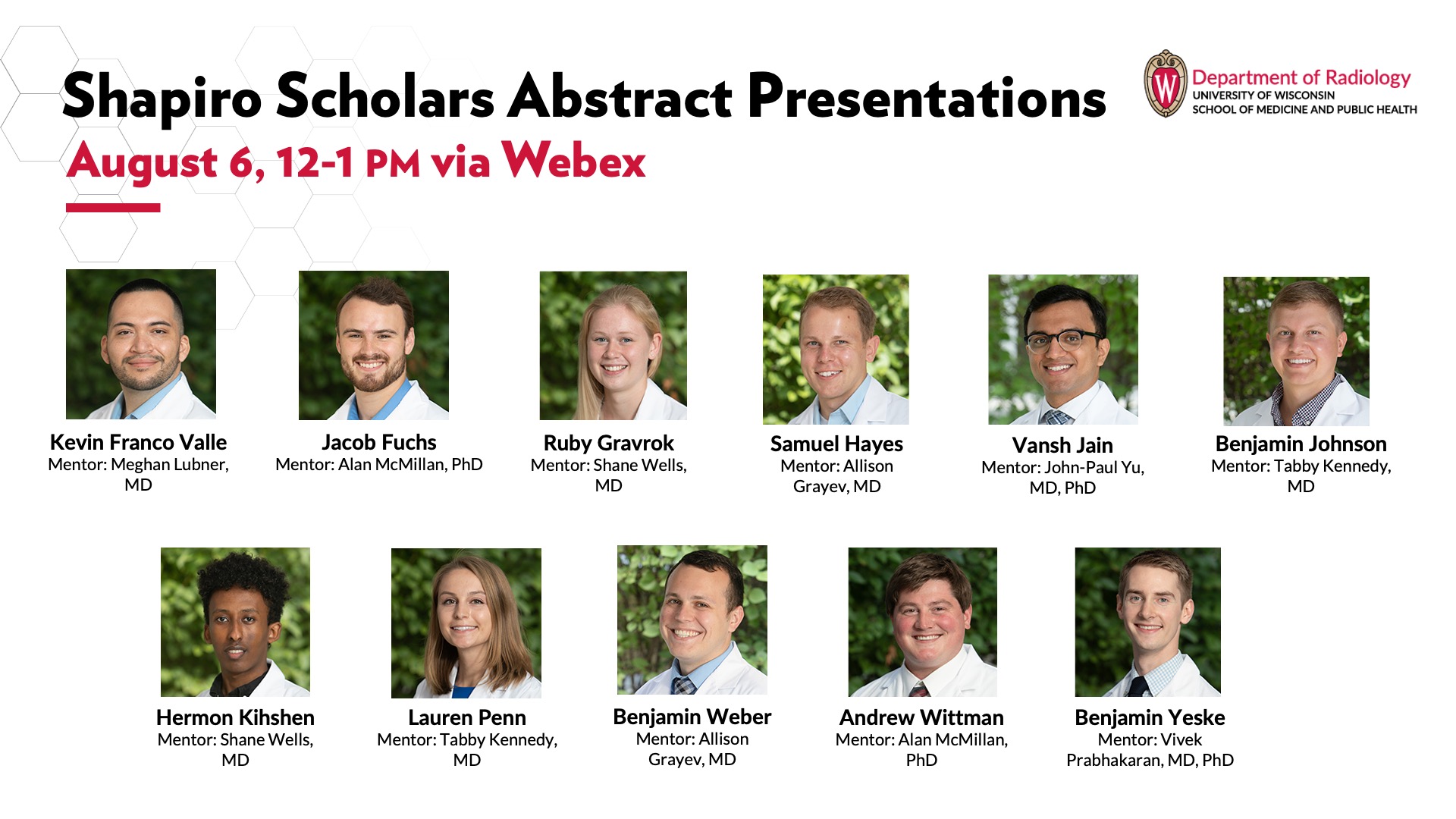 The 2021 Shapiro Summer Research Program concluded with the final student presentations on Friday, August 6th. The Shapiro Program is a longstanding program sponsored by UW School of Medicine and Public Health that matches medical students during the summer between their first and second year with research mentors from a variety of departments. Students work on a research project with their mentor which grants them the opportunity to engage in data collection and analysis, literature review, and often writing up the project to submit as a meeting abstract or journal manuscript. In the fall, these students present their work at a dedicated symposium.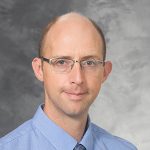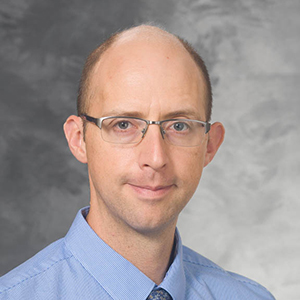 Assistant Professor Andrew Ross, MD, MPH is the Radiology Shapiro Research Program Faculty Director for the Department of Radiology. The Department offers many additional opportunities to students, including faculty-facilitated small group meetings, lectures on radiology topics, clinical shadowing opportunities, and logistical support for meeting presentations. This summer, the Department had 14 students in the program.  
"This is a great opportunity for medical students to explore a research project under the guidance of a skilled mentor. It allows them to develop basic research skills, find mentors who may help guide them throughout their medical school careers, and explore a specific clinical field," says Dr. Ross.  
The students agree about the usefulness of this opportunity and were excited to participate in the program with Department of Radiology faculty as their mentors. They were kind enough to share some feedback on the program, which you can read below.  
"The Department of Radiology made this research experience well-rounded, my mentors were fantastic, the peer sessions helpful, and I loved hearing about other radiologists and their journeys. My mentors and this experience have inspired me to pursue research as part of my practice," says Kevin Franco Valle, who was mentored by Professor Meghan Lubner, MD.  
"The Shapiro program offered me an opportunity to explore a different aspect of medical science, research, and apply skills in critical thinking and analysis to novel questions. The sense of discovery during my summer research project in radiology was exciting and a great change of pace from the rigor of medical school learning," says Vansh Jain, mentored by Assistant Professor John-Paul Yu, MD, PhD.   
"My experience in the Shapiro Program with the Department of Radiology has been the highlight of my summer. One of my favorite moments was doing the presentation exercises I got to do regarding my summer project.  It allowed to me to really think about the purpose of my project and what I wanted to get out of it. It was also an opportunity for me to learn from other students about their various projects. It was an overall positive experience, and I'm glad I got to be a part of it," says Hermon Kihshen, mentored by Associate Professor Shane Wells, MD.  
This program could not be what it is today without the time and effort put in by many faculty and staff throughout SMPH. "It's important to know that lots of people across the medical school contribute to the success of the Shapiro program. This is also true within radiology where we are blessed to have the participation of many talented researchers as faculty mentors each year as well as others who contribute their time as lecturers or small group facilitators," says Dr. Ross.  
Thank you to all the faculty and staff that contributed to make this summer's research program a success!  
Department of Radiology 2021 Shapiro Research Program Students and their Mentors 
Andrew Wittman – Alan McMillan, PhD 
Jacob Fuchs – Alan McMillan, PhD 
Benjamin Johnson – Tabby Kennedy, MD and John-Paul Yu, MD, PhD 
Lauren Penn – Tabby Kennedy, MD and John-Paul Yu, MD, PhD 
Benjamin Weber – Allison Grayev, MD and Anthony Kuner, MD 
Samuel Hayes – Allison Grayev, MD and Anthony Kuner, MD 
Benjamin Yeske – Vivek Prabhakaran, MD, PhD 
Justyn Nguyen – Vivek Prabhakaran, MD, PhD 
Ruby Gravrok – Shane Wells, MD 
Hermon Kihshen – Shane Wells, MD 
Lucille Anzia – Shane Wells, MD 
Vansh Jain – John-Paul Yu, MD, PhD 
Kevin Franco Valle – Meghan Lubner, MD 
Alyssa McClelland – Meghan Lubner, MD and E. Jason Abel, MD (Urology)