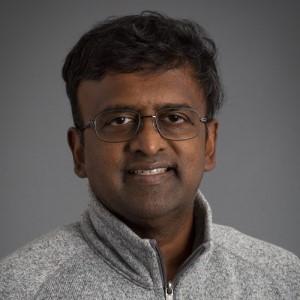 Biography
Dr. Vivek Prabhakaran received his combined medical and doctoral degrees from Stanford Medical School with
his doctoral work in cognitive neuroscience and functional neuroimaging. He went on to complete a combined
residency-fellowship program in Neurology, Radiology, and Neuroradiology at Johns Hopkins Hospital with
board certifications in both Radiology and Neurology. He joined the faculty of University of Wisconsin–Madison
in July 2008 as an professor in Neuroradiology and has affiliate appointments in Psychiatry, Neurology,
and the Neuroscience Training Program.
Dr. Prabhakaran's research laboratory focuses on developing fMRI and other multimodal neuroimaging methods and
tools for neurotranslational research involving characterization and treatment of different brain lesions
such as vascular lesions-stroke, tumors, and seizure pathology. His research accomplishments include
multiple peer-reviewed journal publications including high profile seminal papers in Nature, Nature
Neuroscience, Journal of Neuroscience, and Journal of Neurophysiology, and numerous presentations/symposiums
at various regional, national, and international meetings which have made both an impact in the scientific
as well as the public arena including coverage in NPR, BBC, CBS News, Scientific American, and other media.
Education
Undergraduate:

Northwestern University (Evanston, IL)

Medical School:

Stanford Medical School

Residency:

Johns Hopkins Hospital

Fellowship:

Johns Hopkins Hospital