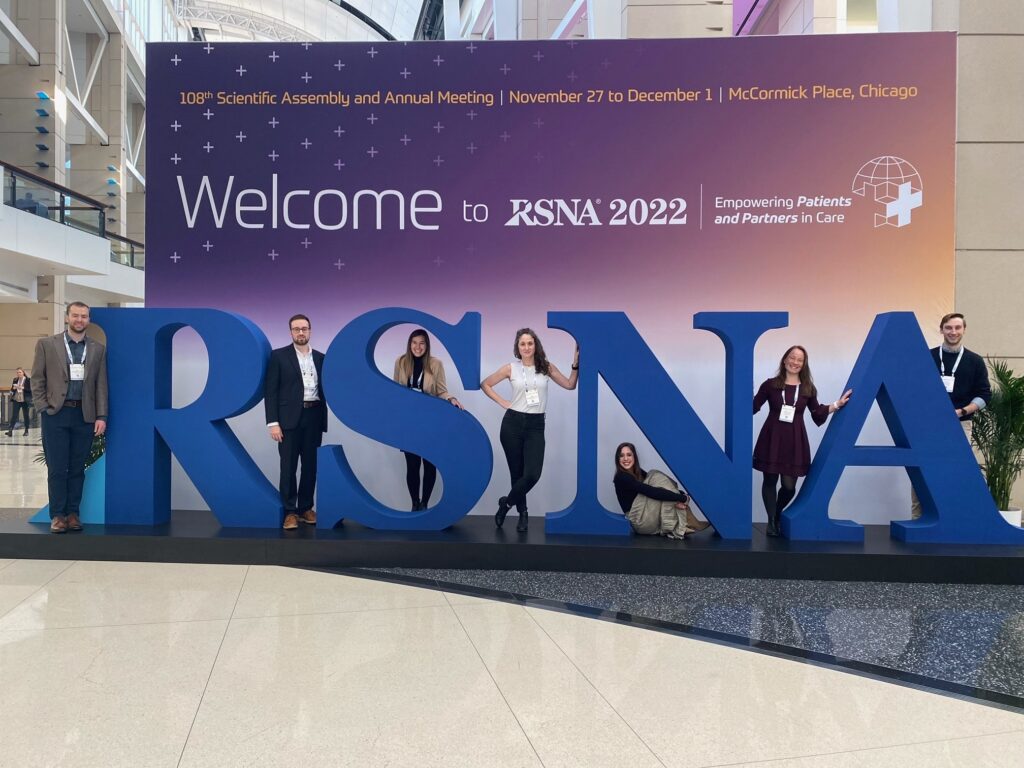 The UW-Madison Department of Radiology was well-represented at the Radiologic Society of North America (RSNA)'s Annual Meeting in Chicago from November 27 – December 1. The conference, which is the largest in the U.S. for radiology, featured a theme of "Empowering Patients and Partners in Care." 
Four of the Department's faculty – David Bluemke, MD, PhD; Meghan Lubner, MD; Scott Reeder, MD, PhD; and Ryan Woods, MD – were selected as Honored Educators. This achievement recognizes their commitment to advancing the profession of radiology through high-quality education.  
An education exhibit by Anand Narayan, MD, PhD on fostering inclusive leadership was invited for a RadioGraphics article. 
In addition, Certificates of Merit were awarded to three educational exhibits. 
• "Breast Imaging and Intervention During Pregnancy and Lactation" (Amy Fowler, MD, PhD; Molly Peterson, MD; Alison Gegios, MD; Mai Elezaby, MD; Ryan Woods, MD; Anand Narayan, MD, PhD; Roberta Strigel, MD; Lonie Salkowski, MD, PhD) 
• "Rectal MR: A Refresher on Low Rectal Cancers at Initial Staging" (David Kim, MD) 
• "Beyond the Reading Room: Creating an Engaging radiology screening Elective Emphasizing Public Health principles and Healthcare Disparities" (Alison Gegios, MD; Tabby Kennedy, MD; Jason Stephenson, MD; Matthew Lee, MD) 
Dalton Griner, a Medical Physics PhD student, received the 2022 RSNA Trainee Research Prize. This award recognizes the merit of his work, "Generalizable Learning of a CT Number Bias Correction Scheme in Low-Dose Photon Counting CT," which was a collaborative effort with Nikou Lei, Ran Zhang, PhD, Guang-Hong Chen, PhD, and Ke Li, PhD. 
Over the course of the conference, over 20 Department of Radiology faculty presented their research, or served as panelists or moderators in oral sessions. These included the following presentations, which were additionally highlighted in RSNA's Daily Bulletin:  
• On November 27th, Jessica Robbins, MD was part of a panel discussing how to improve civility, professionalism, and inclusivity in the workplace. She discussed the prevalence and consequence of burnout in radiology, and recommended practices to mitigate burnout. 
• On November 28th, Mai Elezaby, MD presented her work on recruitment methods aimed at increasing the number of female radiology residents in U.S. residency programs. The standardized, holistic recruitment process developed by Dr. Elezaby and her colleagues was effective, but continued efforts remain critical. Watch Dr. Elezaby share key points, or read about her presentation here. 
• On November 29th, Michael Hartung, MD shared results of a recent study comparing CT diagnoses for abdominal pain in the U.S. and Kenya. His work emphasizes the importance of global health radiology programs and partnerships. Watch Dr. Hartung describe his research, or read about the presentation here. 
• On December 1st, Guang-Hong Chen, PhD moderated the RSNA/American Association of Physicists in Medicine (AAPM) Symposium, exploring how radiologists can work with a multidisciplinary team to enhance patient experience. 
During RSNA 2022, more presentations, talks, and exhibits by members of the Department were announced on UW Radiology's Twitter account. Look through our tweets for more RSNA 2022 content, and make sure to follow the account for coverage of future meetings. 
Throughout the five days of plenary sessions, presentations, panels, and symposia, the UW-Madison's Department of Radiology maintained a strong presence. Congratulations to all the conference participants!